Department of Cultural Heritage (DCH)

The department is headed by a Director and is responsible for tangible and intangible cultural heritage, including the operation of museums, the conservation of historic monuments and cultural sites, and research and documentation into the country's history, arts and culture.
Other bodies under the Department of Cultural Heritage (DCH) are:
Museums

National Museums
The Gambia National Museum opened in 1985, fifteen years after the Friends of the National Museum Association was established. The museum's primary goal is the collection, preservation and presentation of artifacts documenting the material culture of The Gambia, as well as to educate both visitors to the country and residents on Gambian history and culture.
The main National Museum is housed in an old colonial building in Banjul which itself has a rich history, having served in the 1920s as the Bathurst Club for European residents, later, the British Council, and in the 1960s as the Legislative Assembly. From 1970 to 1985, it served as the Gambia National Library. The building stands in a resplendent garden which is one of the few open spaces left in the capital city. The premises also has ample space in the perimeters which doubles up as parking space for vehicles.
The main national museum in Banjul feeds four other satellite national museums. These are:
The museum on the 'Slave trade and the Senegambia' in Juffureh, North Bank Region
The Stone Circles Site Museum in Wassu, Central River Region
The Ethnographic Museum at the Kerr Batch Stone Circles site, Central River Region; and
The Arch 22 Museum in Banjul which currently hosts an exhibit on 'Marabouts and Jujus' and a display on 'Chieftaincy in The Gambia'.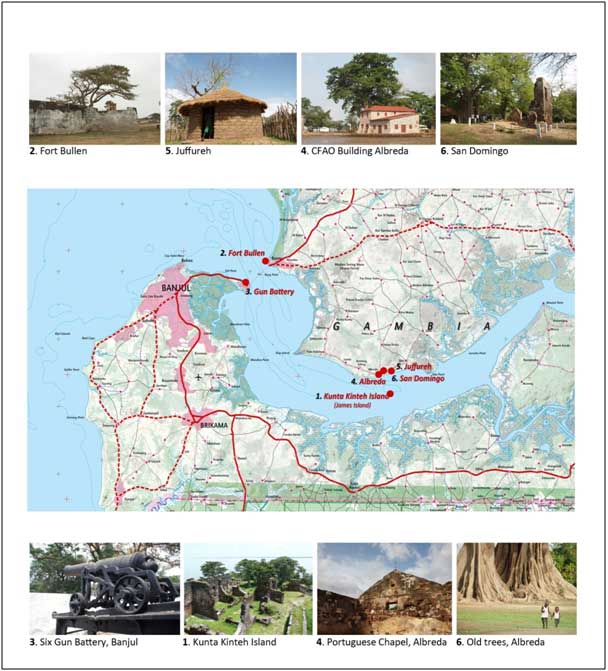 Private Museums
In addition to putting up the exhibitions in the national museums, NCAC staff assisted in the setting up and development of three private and community museums: the Tanje Village Museum, West Coast Region, the Katchikally Museum in Bakau, Kanifing Municipality, and the Genieri Community Museum, Lower River.